Before embarking on a long hike with a new partner or someone you might not have walked with before, here are six questions to stop and ask yourself before you start your journey.
HOW WELL MATCHED ARE YOU?
Firstly, you are going to be spending a lot of time with this other person, so how well do you get along together?
Is this someone that you have spent much time with in the past?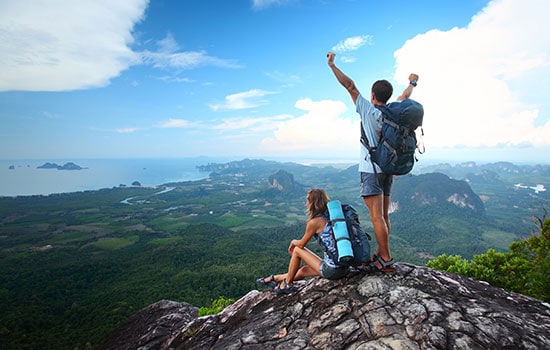 How well do you know them?
Are they likely to irritate you after several hours in the wilderness?
If your trip is going to involve some overnights and a lot of time together, it is even more imperative you have chosen someone with whom you can rub along easily with.
DO YOUR FITNESS LEVELS DIFFER?
Even if you are going hiking with your best buddy, you might hit other compatibility problems.
How well matched are the pair of you, in terms of your physical fitness?
Because if one of you is a lot faster and fitter than the other, this could spell trouble for the dynamic in your partnership.
Partner with a slower walker, who needs to stop constantly, and you risk feeling frustrated and annoyed with them, even when it is not their fault.
But going on a hike with someone who is several rungs ahead of you, in the fitness stakes can also spectacularly backfire. In this scenario, they are likely to get irritated with you and your slow pace. You may find yourself struggling to keep up and pushing yourself beyond your physical fitness limits in order to go at their pace. And this isn't going to be doing you any favors in the long run.
The ideal partner should be someone who is more or less at the same level of fitness and speed as you are.
CAN YOU TRUST THEM?
This is a fundamental question and one that you should definitely ask yourself before going on a hike with a stranger. You will be out in the wilderness, alone with your partner. You need to trust them implicitly.
Things can always take a turn for the worse on any long trip, and hiking in the wilderness can prove to be challenging.
Do you trust their judgment, if you hit trouble?
WHAT IS THEIR SKILL LEVEL?
Likewise, it is a good idea to assess your partner's skill levels, when it comes to going on a trek or hike together.
How much do they know, from a technical point of view – this means anything, from pitching a tent, to reading a map. And some knowledge of first aid is a definite must, for any adventure that is going to span more than one night!
DO THEY HAVE THE RIGHT KIT?
It is going to get tiresome if your partner's kit is not up to par, especially if this means they are going to have to try and use all your kit as well.
If their tent doesn't pitch, their backpack snaps and they don't have the footwear, you are both going to be in for trying times.
DO YOU WANT THE SAME THINGS?
Going on a hike means different things to different people. For some, it might mean a lazy Sunday afternoon wander in the park. For others, it means mission impossible up Mount Kilimanjaro.
Take the time to discover what your partner is actually looking for out of this hiking trip, then no one will be disappointed with the outcomes!
Happy hiking with great Canadian hikes!
Related Post